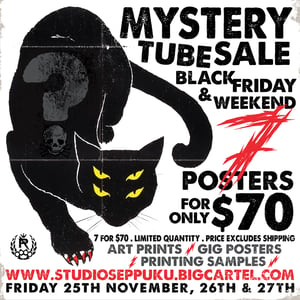 $

70.00
Black Friday (Nov 25th) and weekend (Nov 26th and 27th).
** MYSTERY TUBE SALE **
In this mystery tube sale you get 7 prints for only $70!
Tubes can include art prints, gig posters, unreleased prints and printer samples.
Prints of various sizes, 18x24, 12x36, 12x38 for example.
All prints are screen printed, signed and suitable for framing.
**Available Friday 25th November to Sunday 27th**
Random time taking into account time zones but all zones will be covered for these dates.
**Limited number of tubes available**