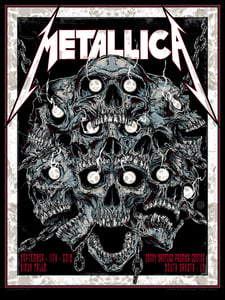 $

80.00
**The store is reopening Wednesday 16th January**
METALLICA
gigposter
11th September
Sioux Falls, SD, USA
** Official METALLICA tour poster **
This official poster was produced by Nakatomi for the Metallica World-Wired tour.
Never available for sale to the general public, this was exclusive to the VIP ticket holders.
Hand-printed silkscreen on heavy art paper.
NOTE- the edition of this print that was release at the show was off-set printed, these are the ONLY silkscreened copies of this print in existence!
each one is:
6 colour silkscreen poster.
on heavy paper stock
printed with metallic inks.
not many available here.
18 x 24 inches
All posters are signed.
Sorry due to a delay the sale has been postponed, it is now tomorrow
**Available Wednesday morning 19th September, Australian time (around 7am - Melbourne), US WEST coast midday Tuesday 18th September**
Sorry for the inconvenience.
(If you are unsure of the time you can use an online time zone converter to calculate what time it works out for your area).
Note prices are in USD.
Search for 'Studio Seppuku' on facebook for future updates on poster art and releases.