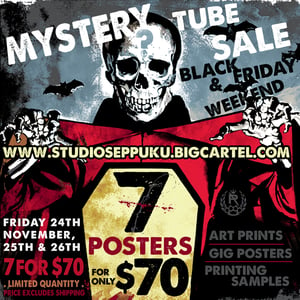 $

70.00
***UPDATE: I will be adding some more Mystery Tubes 15th Dec Australian morning time / 14th Dec US West Coast afternoon time for those who missed out on Black Friday, last chance to grab one for 2017.***
Black Friday (Nov 24th) and weekend (Nov 25th and 26th).
** MYSTERY TUBE SALE **
In this mystery tube sale you get 7 prints for only $70!
Tubes can include art prints, gig posters, unreleased prints and printer samples.
Prints of various sizes, 18x24, 12x36, 12x38 for example.
All prints are screen printed, signed and suitable for framing.
**Available Friday 24th November to Sunday 26th**
Random time taking into account time zones but all zones will be covered for these dates.
**Limited number of tubes available**
**Please note it can take some time to process these so delivery before Christmas is not guaranteed for customers outside of Australia but I will do my best :) **